TKTS ABENO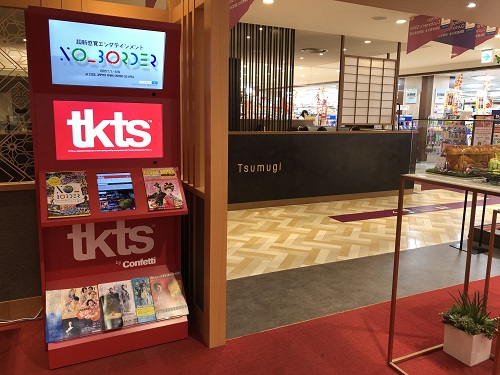 Located inside the Foreign Customer's Salon on floor 3.5 of Abeno Harukas Kintetsu's Wing Building, TKTS ABENO is directly accessible from Osaka Abenobashi Station on the Kintetsu Line, and Tennoji Station on the JR Line. With several train lines nearby, access to venues around Osaka is simple and convenient.. Other goods and services available from the Tourist Information Center include tax free duty exemption procedures, luggage storage, overseas and airport shipping, tourist information, currency exchange machine, and more.
〒545-8545
Kintetsu Department Store Main Store Abeno Harukas 3.5F Foreign Customer's Salon, 1-1-43 Abeno-suji, Abeno-ku, Osaka city, Osaka, JAPAN

Open Hours

10:00 am - 8:00 pm (Closed on New Year's Day)
Payment

Visa, Master, JCB, AMEX, Discover, Diners, UnionPay

Access

◆You can directly access from Kintetsu Osaka-Abenobashi terminal.
Open Hours

10:00 am - 8:00 pm (Closed on New Year's Day)