Hokusai at Play with the 100 Poems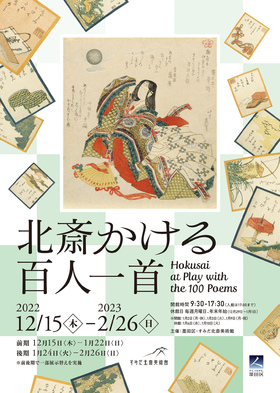 Hokusai at Play with the 100 Poems
The Sumida Hokusai Museum 3F
Detail

This exhibition focuses on Hokusai's One Hundred Poems Explained by a Nurse, joined by a wide range of other works of art related to One Hundred Poets, One Hundred Poems, in introducing that anthology. We hope you will enjoy these works, in which the powers of One Hundred Poets, One Hundred Poems and of Hokusai cross-fertilize and multiply.

【Term】
December 15, 2022 - February 26, 2023
1st term: Dec 15, 2022 - Jan 22, ,2023
2nd term: Jan 24, 2023 - Feb 26, 2023

【Open】
Tuesday - Sunday
9:30-17:30 (last admission 17:00)

【Closed】
Mondays
New Year holidays: December 29 - January 1
*Open: Mon,Jan 2 / Tue,Jan 3 / Mon,Jan 9, 2023
*Closed: Wed,Jan 4 / Tue,Jan 10, 2023

・Not available for advance tickets and group discounts.
・Junior high, high school, and university students (including technical college, vocational school, and special training college students) will be requested to show student ID.
・Adults 65 and over will be requested to show a document verifying age.
・Persons with a certificate such as the following plus one accompanying person are admitted at a discount charge: physical disability, intellectual disability, rehabilitation, mentally handicapped health and welfare, atomic bomb victim health notebook, etc. (Please show your certificate at time of admission.)
・Use of these tickets is limited to the day on which the exhibition is visited and allows you to see AURORA (Permanent Exhibition Room) and Exhibition Plus Room, too.

Visitor Guidelines: Health and Safety During Your Visit for Keeping us All Safe
All visitors are required to...here.​
Please check for details before visiting.

Appearance

Staff

Schedule

2022.12.15. (Thu) 〜2023.2.26. (Sun)

Sales period

Until 16:00 on February 26th

Price

Tickets for today(Adults/H.S.・Univ.Student/65 and over/J.H.S. student/Disabled people)

[List price]
¥1,000/¥700/¥700/¥300/¥300

Event code

I0192H

*Due to popular demand, ticket availability may vary per show/event.We apologize for any inconvenience.