Hakata Shingeki Za Theater [Oct.2022-Mar.2023]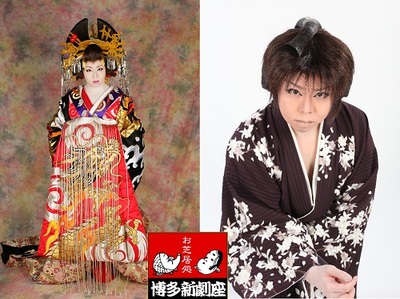 Hakata Shingeki Za Theater [Oct.2022-Mar.2023]
Hakata(Hakata Shingekiza)
Detail

Hakata Shingeki Za Theater is the theater of Taishu engeki(popular theatre) in Hakata.

・Day Part
Open:11:00 am / start:12 pm / End:3 pm

・Night Part
Open:5 pm / start:6 pm / End:9 pm

※The start and finish times of the dance show will vary.
Basic time: Day part 2 pm~3 pm / Night part 8 pm~9 pm

〈Notes〉
※It is all unreserved seat.
If the seat is full, there may be auxiliary seats or Standing seat.
※Valid only once per person.
※We will not refund you, even if you are not using it.
※This ticket is good for two months from the date of purchase.
※It can not be used at special performances.
※Closed: Last day of every month, 3rd Thursday.
(In case of change. Except December.)
※It is prohibited to bring in food and drink from the outside.



Appearance

Staff

Schedule

2022.10.1. (Sat) 〜2023.3.31. (Fri)

Sales period

Curtain time

Price

Unreserved(Advance)

[List price]
¥1,900

Event code

T1105O

*Due to popular demand, ticket availability may vary per show/event.We apologize for any inconvenience.