Making TAIYAKI Experience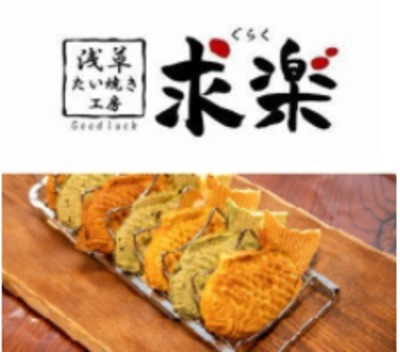 Making TAIYAKI Experience
Ticket Availability
Admissions Ticket

[Exhibition Period] 2022.10.1. (Sat) 〜2023.3.31. (Fri) ASK
Asakusa, Tokyo (Asakusa GURAKU)
Detail

Feel the Japanese culture & tradition!
The making "TAIYAKI" experience in Asakusa! !

What's the making TAIYAKI experience ?
The "Taiyaki" is loved by Japanese people since a long time ago.
It is one of representative "Wagashi" which means Japanese traditional sweets. You can feel Japanese culture and tradition through the experience.

In the experience, you can try making Taiyaki by traditional process. You would have an experience you have never experienced before!Please enjoy the experience with your family and your friends! That is very popular with foreign tourists.

Hope you make your own Taiyaki and make wonderful memories at "Guraku" Asakusa!

Every photo would be very photogenic!

Description of the experience
The making Taiyaki experience make form a dough along traditional Japanese process.

As a guide for 60 minutes, you will make 6pcs of Taiyaki per person. We prepare in side of creams: traditional sweet red beans and vanilla custard cream. Or we also has many of unique foods: Spicy curry, Cheese, Sticky rice, Natto and Kimchi. You can taste whatever you want!

Please enjoy the experience while taking video and photo with your family and friends.

Plan Contents
・Experience about the required time of 60 minutes.
・Taiyaki material of six pcs per one person.
・TKTS Benefit:Free soft drink for free.
・Rental a Taiyaki machine for a group.
・Package for take-away.

Website

Appearance

Staff

Schedule

2022.10.1. (Sat) 〜2023.3.31. (Fri)

Sales period

Ask

Price

1 person(Adult/age 6to17/Visitor)

[List price]
¥3,850/¥2,750/¥2,200

Event code

T1111K

*Due to popular demand, ticket availability may vary per show/event.We apologize for any inconvenience.